Specially For #StartupMindz.com Followers
You should Plan Accordingly
Go for The Founder Title it is like your education.
No one can snatch or steal this title even after your death & even if you have some bad days where you cannot perform good…
Or
When you become so old by age factor that you cannot perform that good then you can hire another CEO by that time and even you can hire another Coach and all others.
Regards,
Mudit Gupta
Founder, CEO & Coach – TopologyPro
---
P.S. – I also have many other titles mentioned in public profile on fb.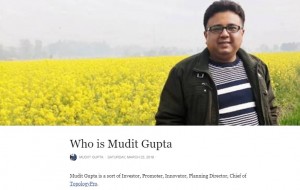 Read Who is Mudit Gupta here
Also based on:
I cried while reading his book in 2011 😭
and now seen all this practically in these 5 years
WHO WILL CRY WHEN YOU DIE – ROBIN SHARMA 🙏